A gooseneck hitch is designed to handle the heavy tow load that accompanies a gooseneck trailer. Trailers of this sort typically come in the form of an RV or livestock trailer but can also include other large trailers such as flatbeds. Like a 5th wheel hitch, a gooseneck hitch mounts into the bed of a pickup truck using a special installation kit or set of brackets. In addition to their high towing capacity, gooseneck hitches are appreciated for their tighter turn radius capabilities and subtle presence in the truck bed.
Quality craftsmanship and intelligent design come together to form the CURT gooseneck hitch line. This line of products is spearheaded by our Double Lock EZr Under-Bed Gooseneck Hitch. The EZr offers optimum strength with a fortified center section, one-person installation and a flip-over trailer ball that keeps your truck bed free of obstructions. It also has a sturdy handle that can be positioned on either side of the truck and double-locking pins that help ensure secure towing. One other feature of the Double Lock EZr and similar gooseneck models is our exclusive Center Locator. Gone are the days of repeated measuring and misaligned holes; the CURT Center Locator simply pops into the trailer ball hole of the hitch and provides an exact marker for where to drill on the under-bed.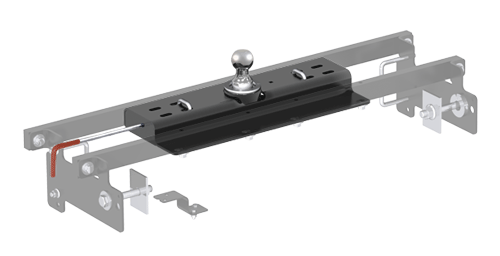 Advantages of the CURT gooseneck hitch line:
| | | | | | | |
| --- | --- | --- | --- | --- | --- | --- |
| | | | | | | |
| Under-bed designs for minimal truck bed interference | | | Exclusive Center Locator for error-free drilling | | | All gooseneck hitch installation kits made in the USA |
INSTALLATION
Installing a gooseneck hitch is typically more complicated than installing a standard trailer hitch or even a 5th wheel hitch. However, the process can be very rewarding, and the end result worthwhile. Unless you have a flat plate gooseneck hitch or a 5th wheel adapter, a gooseneck hitch requires an installation kit. CURT provides step-by-step instructions, as well as helpful videos online, to walk you through the installation of a new gooseneck hitch.
OVER-BED VS UNDER-BED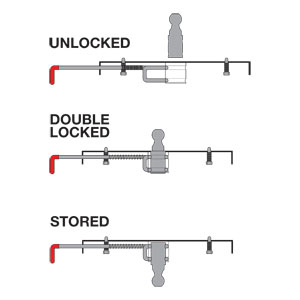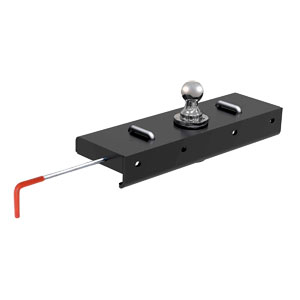 When considering what type of gooseneck hitch to choose for your pickup truck, it is important to think about how often you will use the hitch and what cargo you might haul in your pickup when not towing a gooseneck trailer. While all gooseneck hitches generally stay out of the way and leave the majority of the truck bed open for use, some are built to be more subtle than others. If you often tow gooseneck trailers and use your truck bed for little else, an over-bed gooseneck hitch may be the better choice if you are hoping to save some money. Along with our Over-Bed Fixed Ball Gooseneck Hitches, we offer the Over-Bed Folding Ball Gooseneck Hitch. This design features a trailer ball that folds down and out of the way for more efficient use of your truck bed. Under-bed gooseneck hitches, on the other hand, are better designed for switching back and forth between towing a gooseneck trailer and using your truck bed to haul cargo. The Under-Bed Double Lock Gooseneck Hitch, for example, features a removable flip-and-store trailer ball that moves out of the way to keep the truck bed free of any obstructions. The heavy-duty handle on the Double Lock keeps the trailer ball secure, whether you are towing or storing. Removable trailer balls in gooseneck hitches also allow for the use of a 5th wheel adapter plate, instantly making your pickup truck compatible with a 5th wheel hitch. This is especially useful for farmers, contractors and others who frequently tow various heavy-duty trailers and equipment.
BRAKE CONTROLS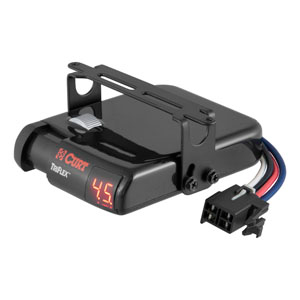 Because gooseneck hitches go hand in hand with towing large, heavy loads, your towing rig will more than likely require a few extra electrical components that would not be needed on a standard trailer. If your gooseneck trailer is equipped with electric brakes, a quality brake control unit is a smart investment to ensure the utmost safety on the road and maximum efficiency of your towing equipment. CURT brake controls are available in inertia-based and time-based options and feature digital or LED displays for easy monitoring. The CURT TriFlex Brake Control is particularly advanced, featuring a triple-axis accelerometer, nine levels of sensitivity adjustment and automatic leveling and calibration capabilities. You can see all of our brake controls and more on the CURT Towing Electrical page.
At CURT, we know the demands that come with a hard-working lifestyle – the noise of the construction site, the long hours behind the wheel of a tractor, the potential danger of high-powered equipment. You should expect your towing equipment to endure when facing the same demands. With our tried and true designs and knack for innovation, CURT proudly offers its extensive line of gooseneck hitches, knowing they will never steer you wrong.