In the towing industry, there are times when greater care and more specialized equipment are required to meet the demands of towing a heavy load. When a standard trailer hitch and ball mount are not enough to handle an especially large trailer and 5th wheel and gooseneck hitches are not the right fit for the job, CURT Manufacturing has created an entire line of towing products that are designed to accommodate the interests of specialized towing.

WEIGHT DISTRIBUTION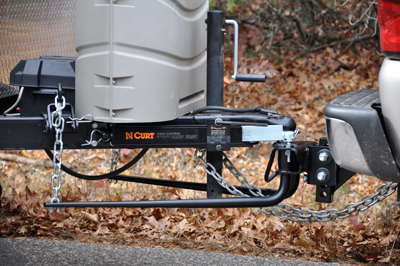 The chief player in the specialized towing world is the weight distribution (WD) hitch. A weight distribution hitch, also called a weight-distributing hitch or load-equalizing hitch, is a special towing product that provides improved vehicle and trailer control by leveling the trailer and more evenly distributing its weight across the tow vehicle's axles. Similar to a ball mount, a weight distribution hitch mounts into the receiver tube opening of a trailer hitch and latches onto the trailer's A-frame using two spring bars. This allows the hitch to lift up on the back of the vehicle, so to speak, and level out the tow vehicle and the heavy trailer. Weight distribution hitches are commonly used on RVs and can also be applied to flatbeds, boat trailers, heavy utility trailers and other large loads. WD hitches are compatible with class 3, 4 and 5 trailer hitches as well as Xtra Duty, Commercial Duty and RV trailer hitches. While a weight distribution hitch will increase the gross trailer weight capacity of most trailer hitches, the vehicle's weight carrying capacity must be taken into consideration before towing a heavier trailer.
CURT has two styles of weight distribution hitches: trunnion bar and round bar. Both come with forged steel bars, built-in attachment tabs for sway bars and a durable powder coat finish for long-lasting corrosion resistance. To complement our WD hitches and maximize sway control on your towing setup, CURT offers a sway control unit that mounts onto your weight distribution assembly and reduces the lateral movement in you trailer commonly caused by wind and passing traffic.

Installing a weight distribution hitch can be somewhat more complicated than the simple pin-&-clip installation of a standard ball mount. For a complete guide on how to install a weight distribution hitch, see the video at the top of the page.
PINTLE HITCHES & PINTLE MOUNTS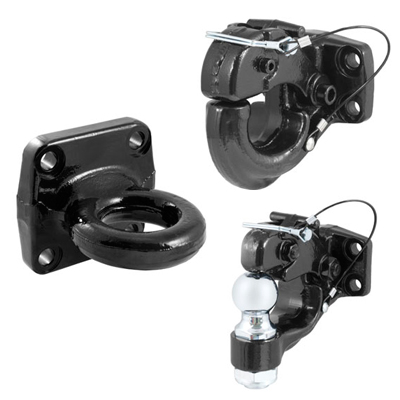 Recognized for their high towing capacity and ability to tow through many different types of terrain, pintle hitches are commonly utilized in the farming, construction and similar industries that tend to go off the beaten path. A pintle hitch is a simple but strong towing setup, consisting of a hook and loop. Basically, the pintle hook, mounted on the tow vehicle, latches onto a ring called a lunette eye that is attached to the trailer. Depending on the tow vehicle and specific pintle mount, CURT pintle hitches can tow anywhere from 10,000 to 60,000 lbs. We offer adjustable pintle mounts that feature multiple mounting holes for varying heights and that are available for 2 IN or 2 1/2 IN receiver tubes. CURT lunette eyes are forged from solid steel and come in different mounting styles, including channel-style, mount-style, lunette eyes with nuts, and drawbar-style. CURT also carries a number of pintle hook and ball combinations to be used for various applications. Our forged pintle hooks can be used with lunette eyes, while our forged ball and pintle combination units can be used either as a pintle hook or as a trailer ball to accept a coupler.
TRAILER COMPONENTS
There are many parts beyond the basic trailer hitch setup that are required to make towing possible. Much of the time, these components are simply taken for granted until a part is lost or damaged. At CURT, we are always prepared for just an occasion, providing you with all the odds and ends that you might need to supplement or repair your towing rig.
Couplers
CURT couplers come in various shapes and sizes to fit your specific trailer type. Our standard couplers feature a lockable latch for peace of mind on the road and have a gross trailer weight capacity of anywhere between 2,000 and 5,000 lbs. CURT A-frame couplers come with a lockable latch as well but can accommodate a gross trailer weight up to 12,500 lbs. depending on the unit. We also have adjustable channel couplers for varying heights and coupler repair kits to allow you to replace a broken coupler latch on your trailer.
Jacks
Trailer jacks are another important towing component that cannot be overlooked. CURT offers both wheeled and non-wheeled jacks, including pipe mount, bracket mount, square jacks, marine jacks and A-frame jacks. There are also a number of replacement parts that can be used to make minor repairs to existing jacks. Whether the jack you have now is in need of replacement or you simply want an upgrade, CURT trailer jacks are versatile, ergonomically designed and made from quality materials.
Other Trailer Components
Some of our other specialized towing trailer components include hand winches, safety chains, cargo straps and tiedown rings. Our wide selection of hooks includes S-hooks, quick links, snap hooks, clevis hooks and joining hooks. Many offer the additional option of a wire or safety latch. CURT also carries trailer lighting kits for rewiring a trailer, and bearing protectors to help keep dirt and water from damaging the wheel bearings on your trailer.
ATV TOWING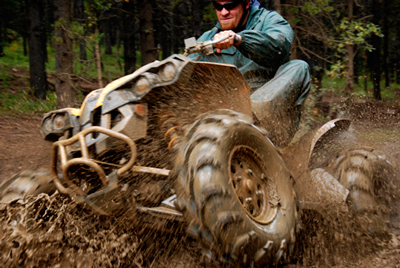 Towing your RV or heavy-duty equipment cross-country may be what gets you out of bed in the morning, but there is nothing like tearing up the trail on an all-terrain vehicle. At CURT, we know how much fun an ATV can be, and we know the need for towing equipment that goes along with ATVing. We offer a complete line of ATV towing products, including towing starter kits, ball mounts, adapters and cargo carriers. Our starter kits include a 3-in-1 ball mount, a bolt-on receiver and a pin & clip. They are perfect for outfitting that brand new quad or 4-wheeler with a hitch that is ready to tow. CURT cargo carriers easily mount onto the back of your ATV, providing much-needed storage space for camping gear, hunting equipment or a cooler and picnic basket. There is no need to leave anything behind when you hit the mud in your ATV; with CURT you can Bring It®!
From the thrill of the muddy forest road to the high stakes of the construction site, CURT has you covered on all of your specialized towing needs.