With any towing setup, there is always the need for a few additional items. Though your trailer hitch and ball mount may be tough enough to haul that heavy load, they cannot properly tow without a few supporting players. Towing accessories are a practical addition to your rig that add the finishing touches and take your towing experience to a whole new level. With the right accessories, the difference is a little like cruising the Grand Canyon in a deluxe RV as opposed to camping out in grandma's backyard.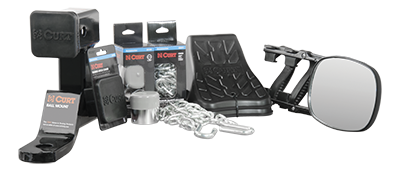 TOWING SAFETY
When you have the right hitch for your vehicle properly mounted and the correct ball mount for your tow load securely fastened with a pin & clip, it is essential to finish off with a few safety measures. Safety chains are a required accessory for your towing rig. Not only do they help ensure that your trailer remains attached to your vehicle, but they are also designed, when attached correctly, to keep the coupler from touching and scraping on the ground in the event that it becomes unhooked from the trailer ball. To properly connect a pair of safety chains, each chain should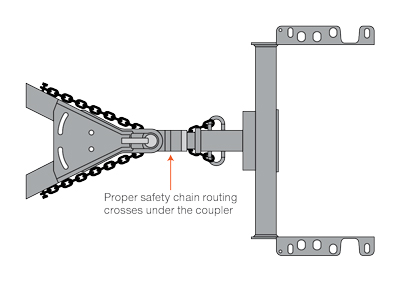 be hooked to the loop on the opposite side, making a crisscross underneath the coupler. This will create a sort of cradle to catch the coupler if it becomes unhooked. Safety chains should also always be rated to meet or exceed the gross trailer weight to be deemed acceptable for towing. CURT offers standard S-hook safety chains, vinyl-coated chains with latching hooks and nylon-coated safety cables.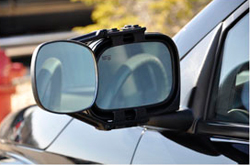 Some other towing accessories that are geared toward safety are CURT wheel chocks and the CURT extended view tow mirror. Our wheel chocks are designed to be used in combination with your vehicle's emergency brake to keep your towing rig from rolling away while undergoing maintenance or simply when parked for an extended period of time. They can be used with wheels up to 17" wide but are not designed for commercial use. The extended view tow mirror is an extremely versatile accessory that provides that extra viewing room needed while towing larger trailers, helping to reduce blind spots. This add-on mirror mounts on the left or right side mirror on pretty much any truck or SUV. The CURT extended view tow mirror is fully adjustable and can be used horizontally or vertically.
EQUIPMENT PROTECTION
On top of making sure every one of our products is of the highest quality, CURT offers a number of accessories that are aimed at helping you properly care for and maintain your towing equipment. We carry hitch tube covers for both 1 1/4″ and 2" receiver tube openings. They are available in steel or plastic with either black or chrome finishes. We also offer a rubber hitch tube cover option that friction-fits onto your trailer hitch receiver so no pin & clip are necessary for mounting.
For protecting your trailer ball when not in use, the CURT rubber trailer ball cover is a perfect fit. This cover is available in two different sizes to accommodate 1 7/8", 2" and 2 5/16" diameter trailer balls. Trailer ball covers and a storage case are also available for the CURT Switch Ball trailer ball.
Finally, CURT bearing protectors are a great investment for keeping your wheels well-lubricated and rolling smoothly to your next destination. A wheel bearing protector is essentially a cap for your wheel bearing, keeping dirt and water out and providing a small reservoir of grease for your bearings. CURT bearing protectors are available in various diameters to fit a number of different wheel sizes and come with dust covers for long-lasting lubrication.
INSTALLATION ACCESSORIES
Despite the fact that CURT ball mounts and trailer balls are made to fit your unique lifestyle, there are times when a little 'tweaking' is a smarter option than purchasing an entirely new setup. It might be the case that your current ball mount and trailer ball, though they are a perfect fit for towing your camper, might not work the same way for your new boat trailer. When you need to use a trailer ball with a smaller shank diameter, but prefer not to buy an entirely new ball mount, CURT reducer bushings come in handy. These simple yellow zinc rings fit into the ball mount platform hole and reduce the hole size down to a smaller diameter. CURT reducer bushings come in three sizes: 1" reduced down to 3/4″, 1 1/4″ reduced down to 1", and 1 3/8" reduced down to 1 1/4″.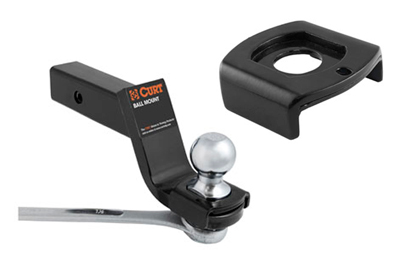 Another useful accessory from CURT is the ball mount tongue sleeve. This patent pending installation tool is designed to allow for one-wrench tightening of a trailer ball. When mounting a trailer ball onto your ball mount, using two wrenches can be cumbersome and time-consuming. With the CURT ball mount tongue sleeve, a second wrench is not necessary. The tongue sleeve simply fits onto a 2 1/2″ ball mount tongue and holds the trailer ball in place as you tighten the nut. With a cutout in the tongue sleeve to match the trailer ball base, the tongue sleeve grips both trailer ball and ball mount, allowing the ball mount to do the work of a second wrench while you tighten. The ball mount tongue sleeve is designed for use with CURT and other 'wrench flat' trailer balls.
FRONT MOUNT ACCESSORIES
CURT carries a number of accessories that are made specifically for the front end of your vehicle, not just to make it look like a lean, mean fighting machine as it comes cruising down the highway, but also to add functionality and safety.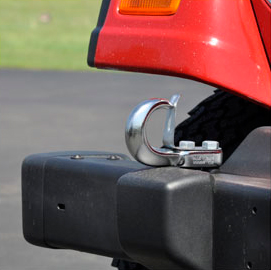 In the unfortunate event that your vehicle breaks down or gets stuck, it is good to be prepared. CURT tow hooks provide a sturdy mounting place on the front of your vehicle for a tow rope or strap. Our tow hooks are forged, heat-treated and available in a chrome or black finish.
The CURT step pad is an anti-skid step that mounts onto a front mount hitch. It provides a solid platform for accessing items on the roof or while working on the vehicle's engine.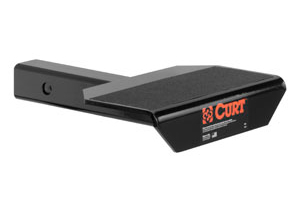 This heavy-duty step is made to fit a 2" x 2" receiver tube opening and comes in a durable powder coat finish for rust resistance. We also carry a license plate holder, skid shield, spare tire mount and winch accessories; all of which are designed to easily mount onto your front mount hitch.
You never know what obstacles the road before you might bring. The key to overcoming them is to be prepared. From proper safety precautions to quality hitch maintenance, you can count on CURT to have the products you need to come prepared and always Bring It®.